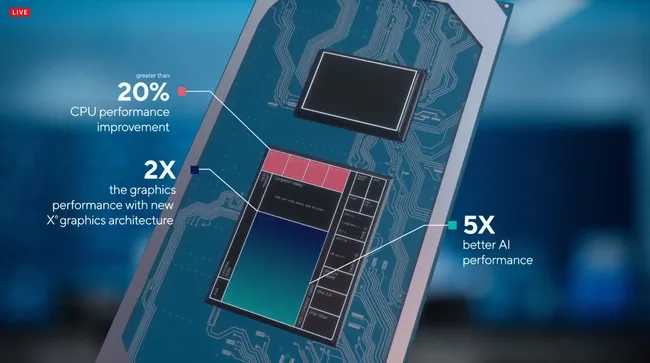 If you are in the market for a new laptop, right now may not be the best time to buy. That applies to both MacOS and Windows laptops, because Intel's next-generation chips are looking like they will actually provide a reasonable boost in CPU performance while also drastically increasing graphics horsepower. There are some early tests of the new chip, and its showing that it may be worth waiting for.
Tech YouTuber 'The Tech Chap' was able to gain access to a Intel Core i7-1185G7 CPU and a pre-production MSI Prestige 14 laptop. It's important to note that the i7-1185G7 is the most powerful chip in the Tiger Lake family. The new CPU comes with Intel's all-new 96 core 'Xe' graphics engine. 
Overall CPU performance of the quad-core Core i7-1185G7 is going to see a pretty sizable boost compared to last-gen chips like the 10th Gen Intel Ice Lake CPUs that you can find in computers like the Microsoft Surface Laptop 3. Graphics performance, though, is where Tiger Lake chips are really going to shine.
The Tech Chap ran quite a few tests and benchmarks that showed the Core i7-1185G7 outperforms a lot of laptops that use Ice Lake CPU with Iris Plus graphics. The new i7 even bests AMD this time around, outperforming machines that have a Ryzen 7 4800U with Vega 8 graphics. Even more mind-bending is the fact that this new Intel chip has better performance than a laptop that uses a discrete Nvidia MX350 GPU. 
This chip will provide photo and video editors with real-world performance gains, and super-thin ultra-portable laptops are going to finally be able to play modern games at good frame rates.
Things aren't perfect quite yet, though. The Tech Chap said there are some stability issues with the drivers. After a bit of gaming, the system crashed [sad-emoji]. We are still in the early days for the Tiger Lake chips, so that's to be expected. The Tech Chap also mentioned that the MSI Prestige 14 is somewhat thicker than a lot of other ultra-portables and also has higher-end cooling. So, it's probably going to be able to squeeze more performance out of the Core i7-1185G7 than other upcoming super-slim laptops.
Intel's new i7 chip was able to deliver solid graphics performance in games like Fortnite and Rainbow Six Siege. And it's important to note that this is all before Intel's Tiger Lake chips have been put through the normal paces of driver updates and optimization.
Basically, for the first time in a while, Intel's new chips are seeming like they actually might be worth buying. Tiger Lake could quite possibly break the cycle of disappointment that Intel fans have had to endure lately. These chips may actually provide ultra-portables an upgrade worth paying for. So, that's why we think you might want to wait for them to become available before you buy a new MacBook Pro, MacBook Air, or Windows 10 laptop. 
Yes, Apple is indeed moving away from x86-based Intel chips in favor of its own custom designed ARM-based processors. In fact, We are thinking a MacBook with an ARM-based chip could show up as early as this year, but the MacBook Air and MacBook Pro platforms will probably still use Intel's processors for the next generation or two.
So, if you're in the market for a new MacBook, take our advice and wait on that purchase. If you do, there is a high probability that Apple will use a Tiger Lake chip for its refreshed version current MacOS machines. When those Macs get that upgrade, it will give those machines a sizable boost in graphics power without the customer needing to spend more money on a model that has a dedicated GPU.
Judging by the leaks we have seen so far, we are thinking that we will see a 12-inch MacBook and a 13-inch MacBook Pro that have the new custom Apple designed ARM-based chip. Apple is expected to eventually entirely drop Intel chips from its MacBook range, so then point that was mentioned above regarding waiting to buy a new Mac machine is still valid because it's worth waiting for either Apple Silicon or Intel Tiger Lake-powered MacBooks.