Some twenty years ago, you needed expensive sophisticated equipment to create professional videos. Lots of people used the services of videographers when it was necessary to shoot some important events and capture special life' moments like a birthday, graduation, or wedding. But times, they are a-changin. And now you can turn any footage into a piece of art if you have a reliable video editing tool at hand. Now the market is deluged with various types of video making and editing software, one may find it difficult to pick the tool that will be the right fit for them. In today's review, we're going to take a closer look at a relatively new yet versatile and highly effective video editing tool called Fastreel.
A Bit of Background
Fastreel is an easy-to-use online movie editor that can be utilized by beginners and experienced videographers. It is an all-in-one tool that will accompany you throughout your video making journey from recording your footage to sharing it with your audience. 
The tool in question was created by Movavi, the company famed for its top-notch, handy, and versatile multimedia software and democratic prices for their products.
What most users like about Movavi's new creation is its usability, intuitive interface, and a plethora of useful options. You don't have to be well-versed and experienced in using video makers and editing software to start using Fastreel. The tool in question is hosted in the cloud, which allows more accessibility and flexibility. No need to install cumbersome software onto your device and scour the websites for regular updates. All you need to do is just connect to the Internet, open your favorite browser, and start creating your video project. Note that the Fastreel tool is no less effective and powerful as the majority of its downloadable counterparts and capable of providing the same quality and outputs for all presentations.
Fastreel is packed with premium features which were previously available only to those professional users. But they are not only advanced features that set it apart. Fastreel provides you with lots of preset templates which can be used for creating a variety of fascinating video projects. What's more, you can customize them to your liking and make it suitable for specific purposes.
Why Fastreel
We're living in the Digital Age, where almost everything revolves around technologies and information. And videos can be a very convenient and effective means to convey information. Fastreel can cater to visual needs of different categories of viewers and enhance the appeal of your video projects.
As it has been noted earlier, Fastreel spares you the bother of downloading and installing specialized software. The program can be used right in the browser, which makes the overall process of creating and editing your videos less time-consuming and more enjoyable. What's more, you don't need to own a powerful, high-end device to deploy Fastreel, since it's completely undemanding in terms of software requirements.
Key Features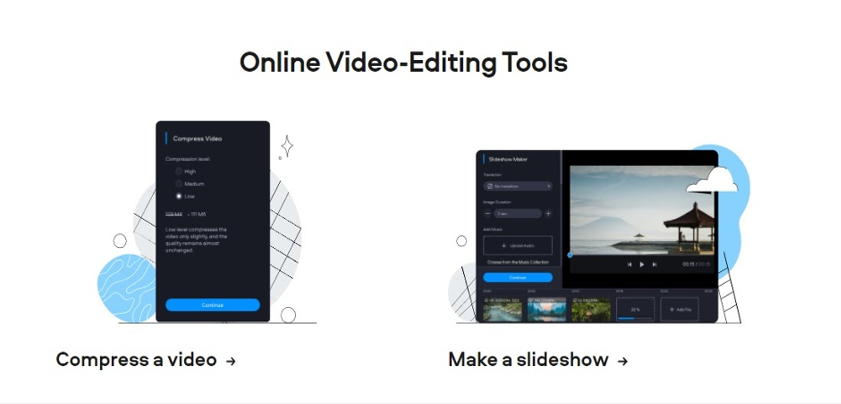 Create videos. Creating spectacular videos isn't a problem with Fastreel. Upload your footage, select the transition type, set the length of display time for your slides, and spice it all up with cool audios or eye-catching captions.
Compress videos. Choose the desired compression level to get your footage compressed in the blink of an eye.
Cut a video. Cutting your videos is also not a problem. All you need to do is select the section you want to cut out by moving the red markers to the required point and trim your video to the desired length.
Change the video speed. If you want to impress your viewers with fun effects, you can mess with your video speed a little bit. There are 8 speed modes for you to choose from. You slow your video down or, to the contrary, speed it up to create a humorous or 'hasty' effect.
Make a slideshow. Slideshow is one of those video effects that are never out of fashion. Fastreel is just ideal for transforming your footages into engaging slideshows. There are tons of slideshow templates. So, there is much room for experiments.
There are plenty of other features worth trying out. You can quickly merge, resize, crop, rotate, mute, and edit your videos in a variety of other ways.
Pros of Fastreel
Let's sum up all the benefits and strengths of Fastreel:
A lot of video editing features
A regularly expanding collection of templates
Free built-in music library
Intuitive interface
Cloud-based
Extensive collection of intro, outro, advertisement, and other customizable templates.
Cons to Consider
As with any program, you may find some limitations to Fastreel, which are in no way critical.
Cannot upload files exceeding 500 MB
Only one output format (MP4) available
Limited number of input formats (MP3 for audio; MP4 for video; JPEG, PNG, and GIF for images).
Prices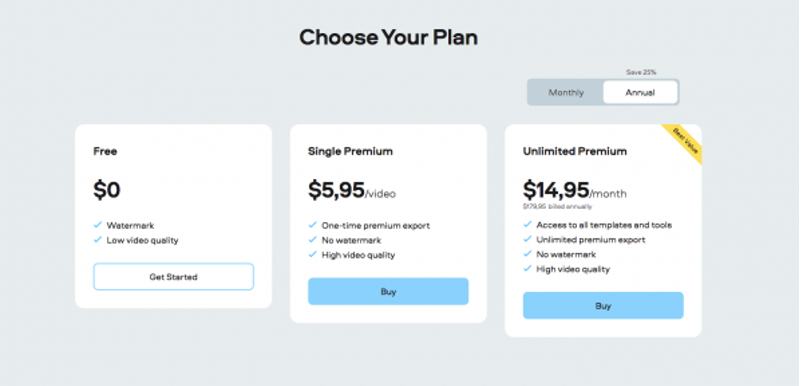 Fastreel has three pricing options which can suit any pocket. Thus, you can opt for a free version, which will impose pesky watermarks on all the videos and images created with Fastreel. What's more, you won't be able to utilize a high-quality render, so the quality of your video projects will be restricted to 480p.
By subscribing for a single-premium package, you'll manage to lift the aforementioned restrictions and get access to more templates, audio files, and other features. You can purchase this plan for $5.95 per video and render.
Finally, you may want to take advantage of the ultimate premium version. You may opt for either a monthly plan, which comes in at $19.95, or an annual one, which is about $20. If you sign up for the former, you'll get countless renders, exports, and top-quality videos for an entire month, including all the advanced features. And the latter will grant you access to advanced unlimited rendering tools, exports, and all features Fastreel is so famed for.